Prepping your home for upcoming weather, or for some event always require cleaning on a grand scale. Even if you regularly clean your place, it is important to deeply clean your house once in a while. However, it is true that regular cleaning using appropriate tools can reduce your deep cleaning work to literally half. Some such cleaning equipment is as follows.
Cleaning products that help you have a sparkling house all the time
Here are 12 basic pieces of equipment you must have to keep your home spotless:
Vacuum cleaner
This essential household item is a vacuum cleaner. It aids in cleaning carpets, floors, and upholstery of filth, dust, and debris. Choose a Hoover that is easy to maneuver, has a range of attachments, and has great suction force.
Microfiber towels
Using microfiber towels to clean surfaces around the house is a terrific idea. They are incredibly absorbent and can contain seven times as much water as they weigh. They are a more environmentally responsible choice because they are also reusable.
Mop and bucket
To keep floors clean and free of filth and grime, a mop and bucket are necessary. Choose a bucket that is simple to fill and empty and a mop with a detachable, washable head.
Broom and dustpan
To remove dirt and debris from hard floors, use a broom and a dustpan. Use a broom with firm bristles to efficiently sweep up dirt, and look for a dustpan with a rubber edge to assist in collecting debris.
Squeegee
For washing windows, mirrors, and other glass surfaces, a squeegee is a helpful tool. It facilitates rapid and effective water and stain removal.
Scrub brush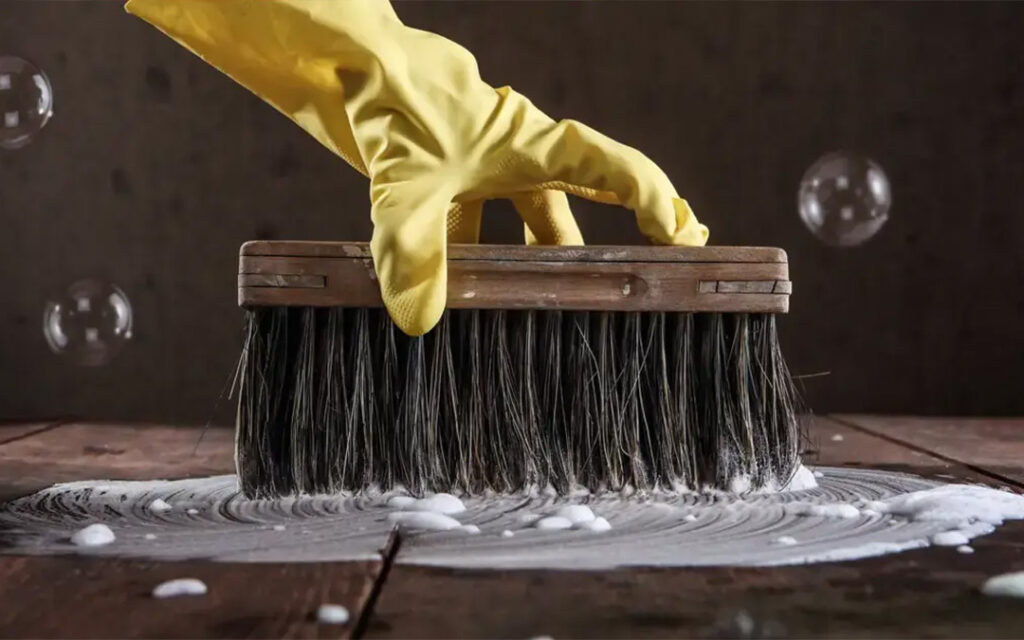 For removing stubborn stains and filth from surfaces around the house, a scrub brush is a valuable tool. Look for a brush with firm bristles that will remove dirt and grime with ease.
Duster
A duster is essential for cleaning hard-to-reach places like high shelves and ceiling fans. Choose a duster with gentle bristles to prevent scratching of surfaces.
Cleaning gloves
They are crucial for keeping your hands safe when cleaning. Choose gloves that are constructed from a sturdy and water-resistant material.
Cleaning caddy
Keeping all of your cleaning products organized and handy is made possible with the help of a cleaning caddy. Choose a caddy with a handle and several sections for convenient transport.
Cleaning solution
Having a quality cleaning solution on hand can help keep your home spotless. You can go for some organic cleaning solutions, and for harsh stains, you should take the cleaning solutions that are not toxic for children and pets.
Lint roller
Pet hair, dust, and other particles may be removed from clothing, furniture, and other surfaces with a lint roller. Choose a roller with adhesive sheets to remove dirt and other debris with ease.
Air purifier
This tool is important to maintain the clean fresh air in your house. Choose an air purifier with a HEPA filter so that you can properly remove allergies and other airborne particles.
Basic cleaning checklist
Apart from the right equipment, it is important to maintain an organized cleaning checklist that you can follow to maintain the sparkle of your house.
Every surface in your home should be dusted, including tables, shelves, picture frames, and gadgets.
Using a vacuum to clean rugs, carpets, and curtains is a great way to keep the dust away from them.
Use a broom to sweep hard floors, and then mop them with an appropriate cleaning solution.
Window and mirror cleaning
To clean the windows and mirrors in your house, use a squeegee and cleaning solution.
Clean all kitchen counters, cabinets, and appliances by wiping them down.
Spend some time purging and organizing each area in your house, putting anything that doesn't belong there away.
Clean the bathroom thoroughly, including the washbasin, bathtub, and shower. Clean the mirror and wipe off the surfaces.
Change and wash all the bedding in every room in your house.
How professional services are helpful for cleaning the home?
Professional cleaning services could help a great deal when it comes to home cleaning. They can frequently clean and sanitize a property more effectively than homeowners since they have the expertise, know-how, and tools required. Professional cleaners may also cater their services to each home's unique requirements and fit their schedules around the homeowner. Additionally, employing cleaners may free up homeowners' time and energy so they can concentrate on other crucial chores.
Help with specialized cleaning
With Easter cleaning or any other special occasion cleaning, professional cleaners may be of great assistance. In order to ensure that your house is spotless for your visitors. They may deep clean it in time for the holiday. Professional cleaners may also assist with Easter decorating by hanging ornaments. Putting up tables, and arranging floral arrangements. You may have a lovely and stress-free Easter celebration with family and friends by hiring expert cleaners since you won't have to bother about the cleaning or decorating aspects.
Cleaning services and home décor
Professional Cleaning services may facilitate home design by giving homeowners a spotless and well-organized workspace. Cleaning up your house gives you a blank canvas to help you Decorating Your Home the way you want. Professional cleaners can thoroughly clean and sanitize the house, eliminating any debris that can diminish the home's aesthetic appeal. This can facilitate the creation of a more aesthetically pleasing environment that highlights the homeowner's individual design tastes. Additionally, by creating a more streamlined and practical space. Professional cleaners may assist with chores like organizing and decluttering, which can make it simpler for homeowners to decorate their houses.
Conclusion
In the end, it is safe to say have appropriate tools, an organized checklist. If possible then having professional cleaning services are all important to keep your house in pristine condition. Having the necessary cleaning equipment on hand may help you maintain your home's finest appearance. Whether you own it or rent it. And if you don't have time then having professional services like the ones. Glow up clean INC is offering is a great alternative.
Related: How Glow up Clean INC Provides Professional Cleaning Services In El Paso?